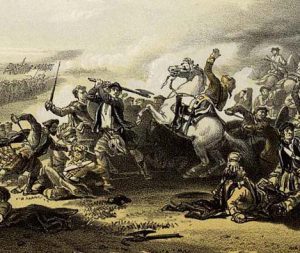 Colonel James Gardiner was a Scotsman and a career soldier in the British Army. By a twist of fate, the man who travelled extensively during his military career was struck down at Prestonpans in a battle that exploded no distance from his own front door. Gardiner was quite a character. In his youth he was a rake and a philanderer and shockingly foul-mouthed, even by soldiers' standards. There's a reason why we still talk about someone 'swearing like a trooper.'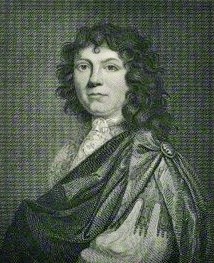 After a religious experience in which he saw a vision of Christ, Gardiner changed completely. He gave up the casual sexual encounters, stopped swearing and began practising Christian charity, courtesy to people of all ranks, kindness to the poor and the soldiers under his command. He cared about animal welfare too, making sure that the regimental horses were well-treated. He was also an early advocate of the swear box, fining his officers and men for every curse he heard them utter. The money was used to provide care and comforts for soldiers who were wounded or fell ill.
He married Lady Frances Erskine, daughter of the Earl of Buchan, and they had thirteen children, only five of whom survived to become adults. You can read some of his letters to his wife at the National Archives of Scotland, at the eastern end of Edinburgh's Princes Street. He almost invariably signed off to 'my dearest sweetest Jewel Fany [sic]', asking her to pass on his love to their children and his regards to all their friends.
Rallying some foot soldiers who had not turned and fled in the face of the terrifying charge of the Jacobite army, Colonel Gardiner was knocked off his horse by a Highlander swinging a scythe, sustaining further wounds as he lay on the ground. He died a few hours later.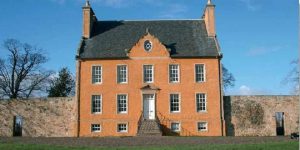 His home at Bankton House is still there, now converted into flats. A monument to the gallant Colonel Gardiner stands between Bankton House and the railway line. It is guarded by four magnificently doleful stone lions.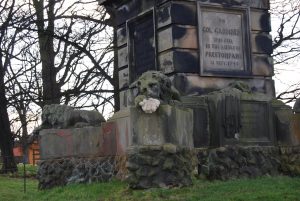 You can read more about Colonel Gardiner and many other men involved in the 1745 Jacobite Rising in my book, Bare-arsed Banditti: The Men of the '45. The book is widely available as a paperback and ebook, including via Amazon UK and Amazon US.
The Battle of Prestonpans was hardly over before the song taunting the Redcoat commander, Hey, Johnnie Cope, was written. It's been sung in Scotland ever since. Here's a link to Ceolbeg's version:  Hey, Johnnie Cope.
There's lots more information at Battle of Prestonpans Heritage Trust, including the latest update on the petition to preserve the site of the Battle.