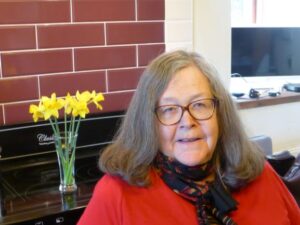 Passionate about her native Scotland and its history, Maggie Craig is the acclaimed writer of the ground-breaking Damn' Rebel Bitches: The Women of the '45, its companion volume Bare-Arsed Banditti: The Men of the '45, When the Clyde Ran Red and One Week in April: The Scottish Radical Rising of 1820. She is also the author of six family saga novels set in Glasgow & Clydebank, where she grew up.
One Sweet Moment, listed by the Scottish Book Trust as one of their 15 Romantic Novels Set in Scotland, is set in early 19th century Edinburgh. Maggie is a popular speaker around Scotland's libraries and book festivals and has served two terms as a committee member of the Society of Authors in Scotland.
Her most recent novel is Storm Tossed Moon, a sequel to Gathering Storm and Dance to the Storm, tales of Jacobite intrigue and romance across the political divide set in a tense Edinburgh in the run-up to the Jacobite Rising of 1745.
"When it comes to romance, intrigue and Jacobites, none can do it better than Maggie Craig."  Book Week Scotland
Contact Maggie