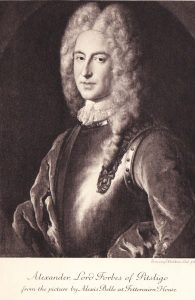 I have to confess that I'm a wee bit in love with Alexander Forbes, 4th Lord Pitsligo. He was a scholar, a gentleman and man of honour. He fought in the '15 and went out again in 1745, despite being 67 years old and a chronic asthmatic. He was a great asset to Bonnie Prince Charlie and did everything he could to mitigate the suffering of those on the other side. When Charles and the Jacobites occupied a hostile Glasgow over Christmas 1745, it was Cameron of Lochiel who stayed the Prince's hand when he threatened to sack the city. I suspect Pitsligo backed him up.
He was certainly a tactful guest in the house of the Glasgow University professor on whom he was billeted. A few weeks later, the professor asked Pitsligo to intervene to secure the release of two young ministers and two divinity students who had set out to fight against the Jacobites at the Battle of Falkirk in January 1746. This ended in victory for Bonnie Prince Charlie and the Jacobites.
One of those young ministers was John Witherspoon. The Jacobites had imprisoned him in Doune Castle, near Stirling. Whether Pitsligo intervened is not recorded. In any case, the young reverend, just 23 years old at the time, managed to escape from Doune, which was quite a feat. He went on to become a founder of Princeton University and one of the signatories of the American Declaration of Independence.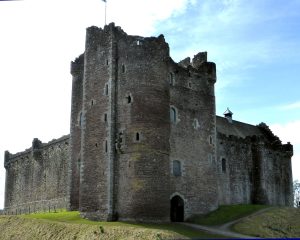 After Culloden, Lord Pitsligo became a fugitive with a price on his head. For years he had to hide in and around his home of Pitsligo Castle, near Fraserburgh, in Scotland's north-east corner. Pursued by the Redcoats, he had many close shaves but his family, friends and tenants protected him. He died a free man in bed at his son's house at the age of 84.
If you'd like to read more about Lord Pitsligo and other unsung Jacobite heroes of the '45, you'll find them here:
Bare-Arsed Banditti: The Men of the '45
Bare-Arsed Banditti: The Men of the '45
See some great photos of Pitsligo Castle here.