It's always a thrill to see my books on the shelves, especially when I'm in such good company as I am here at the National Trust for Scotland visitor Scotland at Culloden. I was there last week to sign copies of my Jacobite romantic suspense novel, Gathering Storm. The gift shop at Culloden has just stocked up on those.
I'm pictured here next to my Jacobite non-fiction, Damn' Rebel Bitches: The Women of the '45 and Bare-Arsed Banditti: The Men of the 45.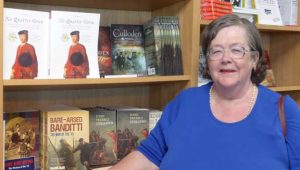 I'm honoured that my non-fiction Jacobite books sit next to John Prebble's masterly Culloden. That was the first serious history I ever read about the Jacobites and the 1745 Rising. The first novel I ever read on the subject was DK Broster's classic adventure, The Flight of the Heron.
Also in the picture is No Quarter Given, otherwise known as the Muster Roll. This labour of love was compiled by members of the 1745 Association and is the Bible for anyone looking for a specific name and regiment of an ancestor or person of interest who served in Bonnie Prince Charlie's Jacobite army. For a researcher, it also offers the broader picture of who the men were, what they were to trade and where they came from.
After signing the books, we drove into Inverness and had lunch by the river. Inverness looked glorious in the summer sunshine!