The Jacobite Rising of 1715 had its formal start on 6th September 1715 when the Earl of Mar raised the standard at Braemar. Prior to the rising of 1745, this was the most significant attempt to win the British throne back from the House of Hanover and restore the House of Stuart.
Three hundred years later, on 6th September 2015, some of us foregathered at the NTS Visitor Centre at Culloden to remember the Jacobites of 1715. It was a bright, breezy and gloriously sunny day.
A temporary exhibition was unveiled by Katey Boal, Learning Manager with the National Trust for Scotland at Culloden.
This is a joint project between NTS Culloden and The Fifteen (The Northumbrian Jacobite Society), initiated with great enthusiasm by NTS Property Manager Andrew McKenzie and John Nicholls, MBE, Chairman of The Fifteen (The Northumbrian Jacobite Society). John is glimpsed here to the left of the handsome display boards.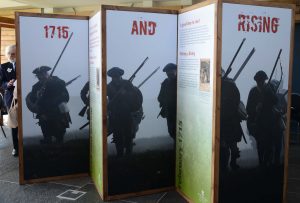 The Jacobites of 1715 don't have nearly as high a profile as their counterparts in 1745 but they're just as interesting and many of their stories are equally poignant.
Take James Radcliffe, 3rd Earl of Derwentwater, executed for treason on Tower Hill in London early in 1716 at the age of 26. From his point of view there was no treason. He was loyal both to his Catholic faith and to the man he saw as his rightful king, James VIII and III, Bonnie Prince Charlie's father.
A beautiful old lament remembers Derwentwater and his commitment to the cause of the House of Stuart. Listen here to The Corries' version, with the late and sorely missed Roy Williamson accompanying himself on the hauntingly-beautiful Northumbrian smallpipes.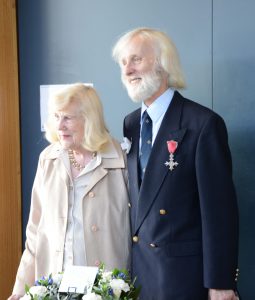 John Nicholls (seen here more clearly with his wife Elizabeth), is passionate about remembering the Jacobites of 1715, especially those who came from the North of England. At Culloden in September 2015, he read out the names of many of the men who took part and the places they came from. It was a very moving moment. One of those men was George Collingwood, who is mentioned in Derwentwater's Farewell.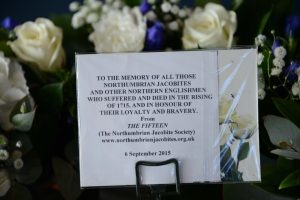 John also laid a beautiful wreath and, preceded by a piper, led a group out to the entrance to the visitor centre, where a replica of the Jacobite standard of 1715 was raised.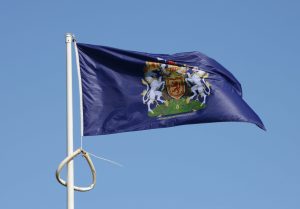 As John says: "Apart from its being a once-in-a-lifetime anniversary that should not go unnoticed, we felt also that it would add to the visitor experience at Culloden by giving them some indication that there wasn't only just the '45 and that this was the culmination of several previous plots and risings, of which the '15 had the best chance of success."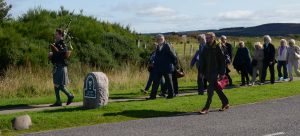 Find out more about the Jacobite Rising of 1715 and The Northumbrian Jacobite Society, who also have a Facebook page.