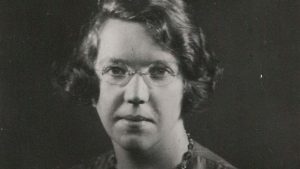 Jane Haining was born in the village of Dunscore in Dumfriesshire in 1897 and died in Auschwitz in 1944, at the age of 47. In 1932, as a Church of Scotland missionary, she had felt called to work as matron to Jewish girls at the Church of Scotland mission and school in Budapest. A committed, compassionate and practical Christian, she continued to care for them even as the storm clouds gathered and broke over Europe. She could have left Hungary, indeed the Kirk tried to insist that she did. Jane, known as Jean to her friends and family, refused, saying: "If these children need me in days of sunshine, how much more do they need me in days of darkness?"
She saved many Hungarian Jews, adults and children, and got them out of the country under the noses of the Nazis. She herself was not so lucky, denounced and sent to Auschwitz where she died. Those pages are hard to read, not because they are graphic but because they are heartbreakingly sad and dignified. This biography of her is meticulously researched, beautifully written and deeply moving, setting Jane in the context of her times.
Mary Miller shows us Jane not as a saint but as a living, breathing, often laughing person at the different stages of her life, as a girl in the countryside, a schoolgirl in Dumfries and a trusted right hand woman in the offices of J & P Coats in Paisley, where she worked for several years before she went to Budapest.
Jane Haining: A Life of Love and Courage by Mary Miller is a fine biography about a fine and brave woman. She inspired many of her pupils, one of whom described her as "a shining light."
Jane Haining is remembered now at home in Scotland, in Budapest and by Yad Vashem, the Holocaust Remembrance Centre, as "Righteous among the Nations."