On Thursday 6th April 1820, a group of weavers set off from their home town of Strathaven in Lanarkshire, thinking they were going to join a French army. They'd been told this was encamped on the Cathkin Braes south of Glasgow, ready to mount a Radical attack on the city. The Strathaven Pioneers, as they called themselves, marched under a flag which bore the legend: 'Scotland Free or Scotland a Desart [sic]. This was an accepted alternative spelling of the word at the time. One of their number was James Wilson, a well-respected man in his late 50s. He was a hosier to trade, weaving the knee-length stockings of the time on a frame. He had developed a quicker way of working by adapting the purl stitch and was nicknamed Purlie (sometimes Pearlie) Wilson as a result. He was a man who could turn his hand to many things and, like so many weavers, he also wrote poetry. Unfortunately none of his verses have survived.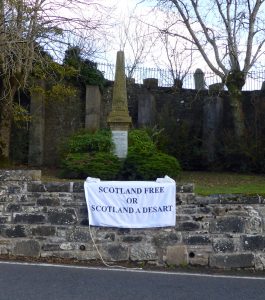 Although Purlie Wilson thought better of it and turned back for home before his fellow weavers reached the Cathkin Braes, he was arrested shortly afterwards. He was tried and found guilty of high treason at the High Court in Glasgow later that summer and was publicly hanged and then beheaded in front of a huge crowd, estimated at 20,000, on Glasgow Green. As reported in the Glasgow Herald the following day, Wilson was overheard to remark to the executioner, 'Did ye ever see sic a crowd, Tammas?' He was a young man by the name of Thomas Young, thought to have been a medical student. Young was also the headsman at Stirling a week later, when Andrew Hardie and John Baird were put to death. Young was paid £40 for his work at Stirling, although he had to write several reminder letters before he got his fee.
Jamie Wilson was buried in common ground at Glasgow Cathedral but that same night, his daughter and his niece exhumed his body and brought him home to Strathaven, where he had wanted to be buried. He lies in the kirk yard above the spot where his house was, the site of his grave pinpointed and marked by the 1820 Society. There is a memorial to him where his house once stood.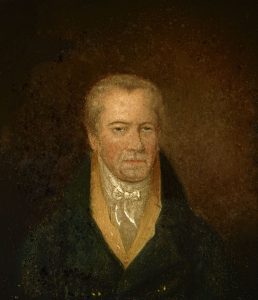 He has recently inspired this song, written and sung by Martin Coffield.
Martin is a member of Lanarkshire Songwriters. Check out their FB page for his song and more.