Edinburgh, 1822: Richard is a wealthy young medical student who lives in the opulent New Town. Kate works in a dingy oyster cellar below the South Bridge in Edinburgh's Old Town, her only joy her young brother Andrew. In this extract from One Sweet Moment, she is reluctantly showing Richard around the gloomy vaults. She's attracted to him but very wary. Life has made her that way. His interest is in her but he's appalled at the poverty he's seeing and has promised to help Alan Gunn, a widower with a young family and a victim of the Highland Clearances.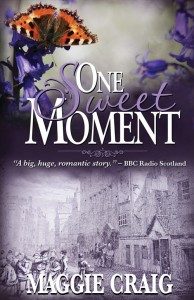 'Aargh!' He recoiled as something leapt at him from the overhanging beam. It coalesced into a ginger and white cat. The rat swinging from its jaws had to be dead. Using his shoulder as a stepping stone, the cat reached the floor and scampered off, the rat still clamped between its jaws.
'Jack!' yelled Andrew. 'Clever boy!' He set off in uneven pursuit of the cat, his lantern bobbing about like a fishing boat in a stormy sea.
Richard laughed as he watched them go. 'Jack being the bridge's resident mouser, I presume. Andrew's right to congratulate him. Rats carry all manner of diseases.'
'I know.'
Once more blue eyes met green. I know better than you do. Because I live with all of this. Because I may have no education but I'm not stupid either. Richard wondered if that was what she really wanted to say. Kate crossed her legs and he caught a glimpse of striped stocking. Red and white, spilling over the top of sturdy, if rather battered, laced ankle books. They looked dainty on her feet.
He wanted to walk over there, hoist himself up beside her and talk to her for hours. He wanted to find out everything about her. What had happened to her and Andrew's parents? Was she happy to live here? She couldn't be. He wanted to know what her hopes and fears and dreams were.
He stepped forward, and saw wariness slide across her face. How many times a week did she have to defend herself against unwanted male attention? Small wonder if she was sometimes prickly. He resumed his casual stance.
Kate's stern expression didn't waver. 'You just gave me your word. About Mr Gunn.'
'You don't believe I really will do anything to help him though, do you?'
'No. I dinna.'
'You think I'm a bored young gentleman who'll have forgotten all about the South Bridge and everyone in it by this time tomorrow?'
'That's about it,' she agreed.
'Well, Miss Catriona Dunbar,' Richard said, 'I'm clearly going to have to prove you wrong, am I not?'
One Sweet Moment by Maggie Craig is available at High Street and independent bookshops and online as a paperback and ebook from Amazon UK.

It is also available as an ebook from Amazon US.