This month, November, I'm showcasing my novel One Sweet Moment. It's a love story, if not one for the faint-hearted. Life for a poor girl in 1820s Edinburgh could be difficult and dangerous and I wrote the book with the realities of life back then in mind. I call it romance noir.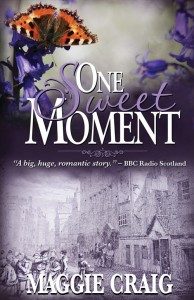 One Sweet Moment is also a coming-of-age tale and a love letter to Old Edinburgh. Richard and Kate's touching and poignant romance plays out against the colour and pageantry of King George IV's pivotal visit to Edinburgh in 1822 and the heart-stopping drama of the Great Fire of Edinburgh of 1824.
The book has had great reviews and is available as a paperback, ebook and as an audio download. You can buy One Sweet Moment from High Street and independent bookshops, Amazon UK and Amazon US. Overseas readers who would like to buy the paperback rather than the ebook might like to know that The Book Depository dispatches books worldwide with free delivery.
If you'd like to keep up to date with my writing news, please sign up for my quarterly newsletter using the form to the right of this post.