This year I'm celebrating the 20th anniversary of the publication of Damn' Rebel Bitches: The Women of the '45.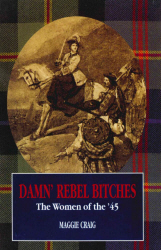 Writing this book was a labour of love for me. With no Internet to speak of back in 1997, I did the research in the old-fashioned way, travelling to libraries, archives, museums and locations up and down the country, from the Public Record Office in Kew in London through York, Carlisle and Edinburgh to Aberdeen and Inverness.
DRB, as we call it in our house, has had some wonderful plaudits over the years.
'glitters with eye-catching gems that shed light on everyday 18th century Scottish life.' Roddy Philipps, Aberdeen Press and Journal.
'a racily written, well-researched and heart-warming account.' Elizabeth Sutherland, Scots Magazine.
'a modern classic.' The Herald.
'bold and argumentative … resounds with authority.' Scotland on Sunday.
'This book changed my life.' Young woman at Linlithgow Literary Festival. 
Originally published by Mainstream of Edinburgh, Damn' Rebel Bitches: The Women of the '45 is now published by Penguin Random House.  It is available from High Street and online booksellers, including Amazon UK and Amazon US, as is its companion volume, Bare-Arsed Banditti: The Men of the '45.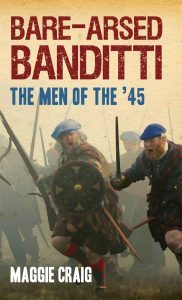 Readers furth of Scotland and the UK might like to know that The Book Depository send books worldwide at no extra cost for postage and packing. All my books are also available worldwide as ebooks from Amazon, Kobo and other online retailers.