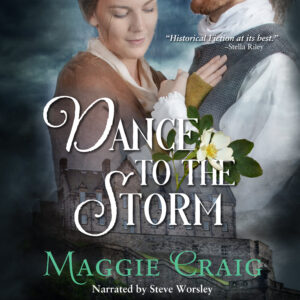 I'm beyond excited that the latest instalment of the life and adventures of Captain Robert Catto and Miss Christian Rankeillor is now available as an audiobook, evocatively read by the multi-talented Mr Steven Worsley. Steve is very much in demand as a narrator.  He has read many novels, including  by tartan noir authors such as Stuart MacBride, Christopher Brookmyre and Margaret Kirk. I'm thrilled that he is the narrator for Dance to the Storm.
Steve, your bio describes you as a 'professional actor, singer, improviser and voice-over artist', so you have a lot of strings to your bow. Did you know from an early age that you wanted to be an actor and singer or is it something which developed as you were growing up?
I knew from a very young age that acting was what I wanted to do. From the age of about 7 I performed on stage in school shows and loved the experience. But I was always encouraged to get a "proper" career first. Eventually went to drama college after realising there was really nothing else that I wanted to do. Returned home to Aberdeen after college and fell into a cycle of just having to do jobs I didn't enjoy just to get by until I landed my first paid roll in a professional touring musical called Closer Than Ever. From that day on I decided to take the plunge and pursue acting work full time. Eventually moved to central Scotland, where things took off even more. Never looked back. Been a professional actor for over 15 years now.
 Is there a particular actor, movie, stage or TV drama which inspired or continues to inspire you?
I think I find inspiration from all facets of the arts, and indeed the world around me. I love all genres of movies, and I love lots of different actors for different reasons. Always been a huge Tom Hanks fan. Whatever he does he delivers and then some. Breaking Bad is one of my favourite TV dramas. Such a perfect blend of great acting and perfect writing. Love how you get pulled in all directions with the characters. They make the heroes do really awful things and give some of the antagonists redeeming qualties. My all time favourite movie is The Fisher King. The whole cast give masterful performances and the story is so beautiful. A tale of true love in the gutter.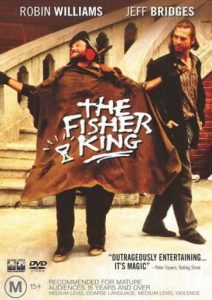 You trained at Queen Margaret College in Edinburgh. Can you tell us a little about the experience?
Drama college was a mixed experience for me and one that I was not really ready for at the time. It was my first time away from home and suddenly I found myself living in Edinburgh and surrounded by new temptations. Studies pretty much went out of the window in favour of night life and as a result I fell behind and sadly had to leave after 1styear. I learned many great skills there but overall the syllabus wasn't really what I was looking for. To this day I still consider myself self-taught.
When did you begin to do improvisation and what brought that about?
I started improvising about 7 years ago. My wife spotted an advert in Creative Scotland looking for people to audition for a new improv show called Transylvanian Nights. She said that I would be great at it so with much trepidation I applied. I nearly didn't go to the audition, thinking that it would be full of experienced improvisers and I'd just end up making a fool of myself. But I went along, got the gig and have been having a love affair with improv ever since.
Who are the intriguingly-named 'Men with Coconuts' and what do they get up to?
After Transylvanian Nights had ran it's short but fairly successful run, some of us in the group still wanted to keep improvising, and we were keen to do something in the Edinburgh Fringe. We put our heads together and came up with a fun format which combined improv games with radio style sound effects. We had a table full of silly noise producing props like horns, squeaky toys, children's musical instuments and … coconut shells. And thus the Men With Coconuts were born. The show came and went, but we decided to keep the name. Like Monty Python, it didn't really mean anything but just sounded funny. Our popularity grew at the Edinburgh Fringe. We got great reviews, and our audiences grew. We then took the show to the Prague Fringe where we won the Spirit of the Fringe Award and became an audience favourite. Last year we embarked on an epic journey and perfomed at the Adelaide Fringe in Australia (where we won the Weekly Award for Best Comedy Show) and the New Zealand Fringe in Wellington. We returned to Adelaide this year, which was good timing as the quarantine started just a couple of weeks after we got home! When not performing we also teach improv classes and host guest improv teachers from around the world.

Can you tell us about your singing career?
I just love to sing. I have performed on stage in musicals for many many years. Played lead roles in shows like Calamity Jane, A Funny Thing Happened On The Way To The Forum, The Sound of Music, Into the Woods, Company, The Last 5 Years, Rent and Little Shop of Horrors. I also sing in a Rat Pack style vocal trio called Ocean's 3 which I formed with two friends when I lived in Aberdeen. We still perform together around the country at various events. We were once lucky enough to perform on a National Trust For Scotland cruise to Iceland.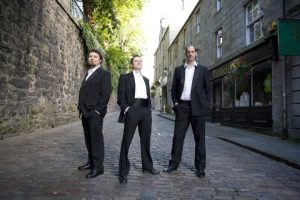 How did you get into book narration?
Audiobooks happened to me quite by accident. When I lived in Aberdeen I did lots of role play work (training doctors, police, social workers,etc) and the guy who owned the company also is a very prolific Scottish voice over actor. He was telling me about an audiobook job he had just been offered, narrating a Stuart MacBride book. He wasn't keen on doing it as he is Glaswegian and the MacBride book was set in Aberdeen. I jokingly raised my hand and said "I'll do it if you don't want to". He took me up on my offer and helped me record a sample paragraph to send to the publisher. They approved it and before I knew it I was off to a studio in Manchester to record my first ever audiobook. It was utterly terrifying as Stuart MacBride is a top 10 best selling author and I was given absolutely no training or advice. I just had to show up and do it. By some miracle it turned out that I had an aptitude for audiobook narration and the jobs just rolled in from then. I live by the philosophy that if someone offers you a new opportunity you just say yes, then figure out how to do it after! Fake it till you make it!  
You have an impressive range of accents at your command and they all sound completely authentic. Is this a natural aptitude or something you've specifically studied?
Thank you. You could argue that some are better than other! It's nothing I've ever studied. I just always enjoyed doing voices when I was young. I was never sporty as a child so most of my play revolved around pretending. Running around the neighbourhood with my friends playing armies or pretending to be The A Team. I've been very lucky that things I played at as a child have become skills I would get to use in my career. When Stuart MacBride writes a new book I'm never asked if I can do particular accents. Whatever he writes I just have to do! It's a real challenge. One of my most recent audiobooks is called The Island by Ben McPherson. The entire book is set in Norway! We will see how successful my Norwegian accent is when it comes out later this year! 
You can follow Steve on Twitter @steveworsley03 and find out more about Ocean's 3 and Men with Coconuts on their websites and Facebook pages. 
Listen to an extract from Dance to the Storm here. Buy the audiobook in digital download here. The paperback edition will be published later this year.