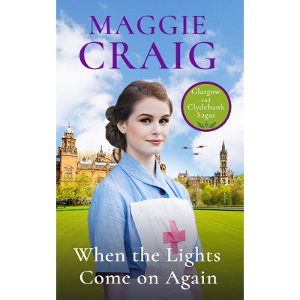 Eighty years ago this month, on 10th June 1940, Italy entered the war on the side of Germany, declaring war on Britain and France. Italian men living and working in Britain were promptly interned as 'enemy aliens'. As Churchill said when told most of them would be innocent of any fascist loyalties, "Collar the lot!" Sadly, a few people used Mussolini's decision as an excuse to attack Italian cafés, chip shops, ice cream parlours, restaurants and specialist grocery shops in Britain. In Edinburgh, the famous and much-loved Valvona & Crolla's was one target.
When I wrote When the Lights Come on Again, I gave my Scottish leading lady an Italian boyfriend, Mario Rossi. I told my then-agent of my plans.
"An Italian?" came the query, accompanied by raised eyebrows. "A foreigner?"
To which I replied, "Glasgow-Italians aren't foreigners!"
My questioner persisted. "Couldn't you make the boyfriend Irish? They're a more acceptable kind of foreigner."
When the Lights Come on Again has just been re-issued, with a lovely new cover designed by Debbie Clement.
The café in this book was inspired by the real University Café, seen here in a print by Adrian B McMurchie.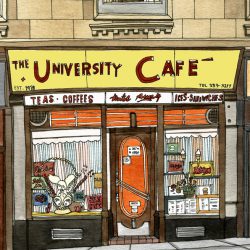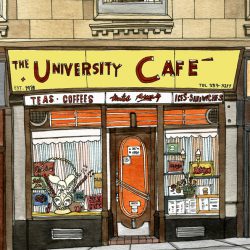 I bought a copy of this lovely image a year or so ago, having very fond memories of the place from when I worked as a medical secretary at the nearby Western Infirmary, at which the main characters in When the Lights Come on Again are doing their medical training. Read an excerpt from the book here, a couple of scenes dealing with a mob attack on the (fictional) café run by Mario's father Aldo Rossi:  Excerpt from When the Lights Come on Again by Maggie Craig
If you'd like to buy the ebook or the audiobook, click here.