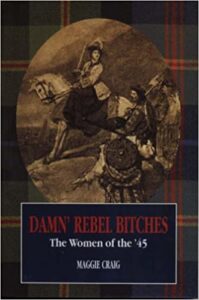 Very pleased to have been asked by the lovely and dedicated Inverness Outlanders to speak about some of the women I wrote about in Damn' Rebel Bitches: The Women of the '45 at an online event. The third Inverness Outlanders LIVE online show happens this coming Tuesday, 23rd February at 7pm on Facebook. You can tune in here.
I'm chatting with Bruce MacGregor of Blazin' Fiddles and MacGregor's Bar fame.  The motto of the bar is 'Macgregor's Despite Them.' Love the defiance! 
Damn Rebel Bitches was first published in 1997 and has never been out of print since. It was a labour of love and it's very satisfying to know that the stories of these brave Scotswomen continue to inspire. You can find out more about the book here.