Today is Daft Friday, two Fridays before Christmas Day, and traditionally the start of Yuletide celebrations in Scotland, stretching through to Hogmanay and the all-important seeing-in of the New Year.
Daft Friday 1743 has been a day that has stretched for me. In fact, I am worn out after living through Daft Friday 1743, over and over again, like Groundhog Day or 12:01. That's what comes of racketing around Edinburgh with Captain Robert Catto of the Town Guard and Kirsty Rankeillor, lady apothecary and Jacobite, the main protagonists of my novel, Gathering Storm. That pair keep getting themselves into trouble. I understand that, I really do, but does it have to be snowing so heavily, just to complicate things even further? (Of course it does. Ed.)
Daft Friday and the Daft Days were a time to turn normal behaviour on its head. The records are full of people getting into trouble, chiefly from the Kirk, for doing just that. Another classic source of information is F Marian McNeill's 4-volume work on Scottish folklore and calendar customs, The Silver Bough.
Here's how I describe Daft Friday in Gathering Storm:
Daft Friday: when the world went mad. Boys put on their sisters' dresses, girls pulled on their brothers' breeches. Drunken revellers danced through the graveyard, cocking a snook at death itself. Ne'er-do-wells and the lowest of  people spoke back to their betters and, on this one day and night of the year, expected to get away with it. On Daft Friday everything turned tapsil-teery. The normal conventions did not reply.
Robert Fergusson, the Scottish poet who died tragically young at 24 but who is now immortalised as a young man in a hurry outside the Canongate Kirk on Edinburgh's Royal Mile, wrote a poem called The Daft Days.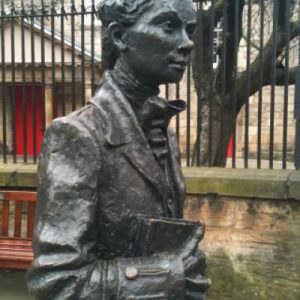 Here's one verse. You can read the whole poem on the website of the Scottish Poetry Library.
Let mirth abound: let social cheer
Invest the dawnin' o' the year;
Let blithesome innocence appear
To crown our joy;
Nor envy wi' sarcastic sneer
Our bliss destroy.
 In the same poem he takes a swipe at those killjoys, the City or Town Guard, calling them 'that black banditti.'  Never very popular, the Town Guard. Not that Robert Catto loses any sleep over that. Other things, maybe.
So to celebrate the start of Yule in traditional Scottish style, we should eat, drink and be merry, dress up in the clothes of the opposite sex, dance through the graveyard and be cheeky to (those who think they are) our betters. Sounds good to me.
Have a cool Yule!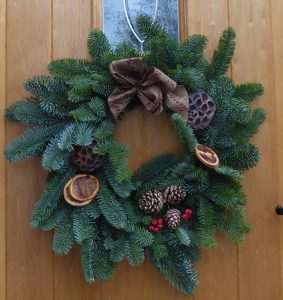 If you would like to sign up for my quarterly newsletter, next one in January 2017, please click here, scroll down a wee bit on the right and fill in your name and email address.